2021 Event Schedule Released On 1st February 2021
Thanks for visiting our site.
Due to current UK government guidelines on COVID-19 restrictions we are not currently running any events, however at the begining of February 2021 we will publish our events for the whole of 2021, which will include weekly Bristol Street Art Tours and weekly 'Introducing Stencil Art' spray sessions. (We will run even more sessions in holidays and half-terms).
Please check back at the begining of February for our yearly schedule.
In the meantime if you would like to do a COVID-19 secure, socially distanced cultural activity, check out our self-guided walking tour here.
We wish you and your family the very best of health, and looking forward to seeing you all soon.
"If you only do one thing in Bristol, do this! "
Little Miss Sammy about Bristol Street Art Tours on TripAdvisor 2018
D

iscovering the street art home of Banksy and exploring over 30 years of street art & graffiti art history in the UK's capital of street art, Bristol".

The Bristol Street Art Tour has been running for over 8 years and through it's constant positive feedback on Trip Advisor, it has developed into one of the most talked about street art tours in the world.
The tour now runs with COVID-19 safe-guarding, including listening devices to enable social distancing (please bring your own headphones), and smaller groups sizes.

The Bristol Street Art Tour is an experience and journey not to be missed!
Come and enjoy the Bristol Street Art Tour – discovering the street art home of Banksy.
Here are our upcoming dates. Click a date to book tickets:
You can see all of our latest tour times and other activities by clicking here.
Aerial view of central Bristol Street Art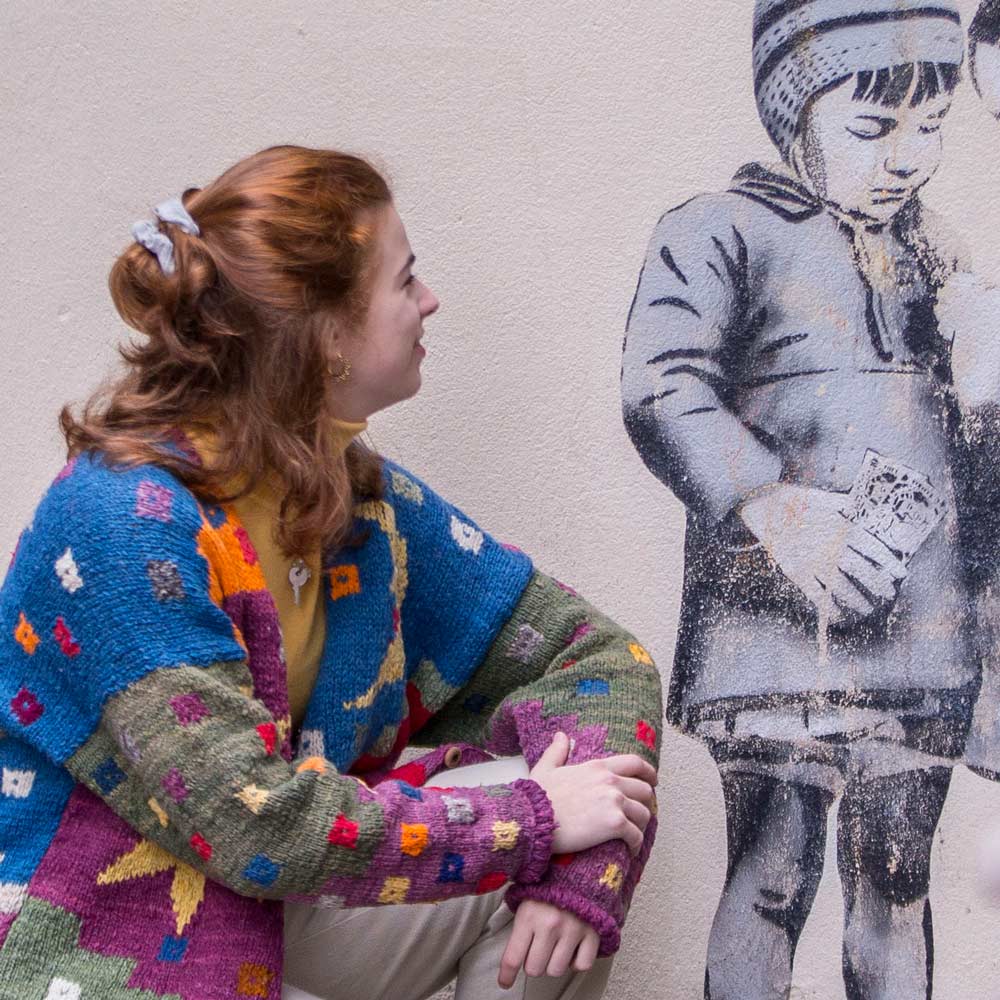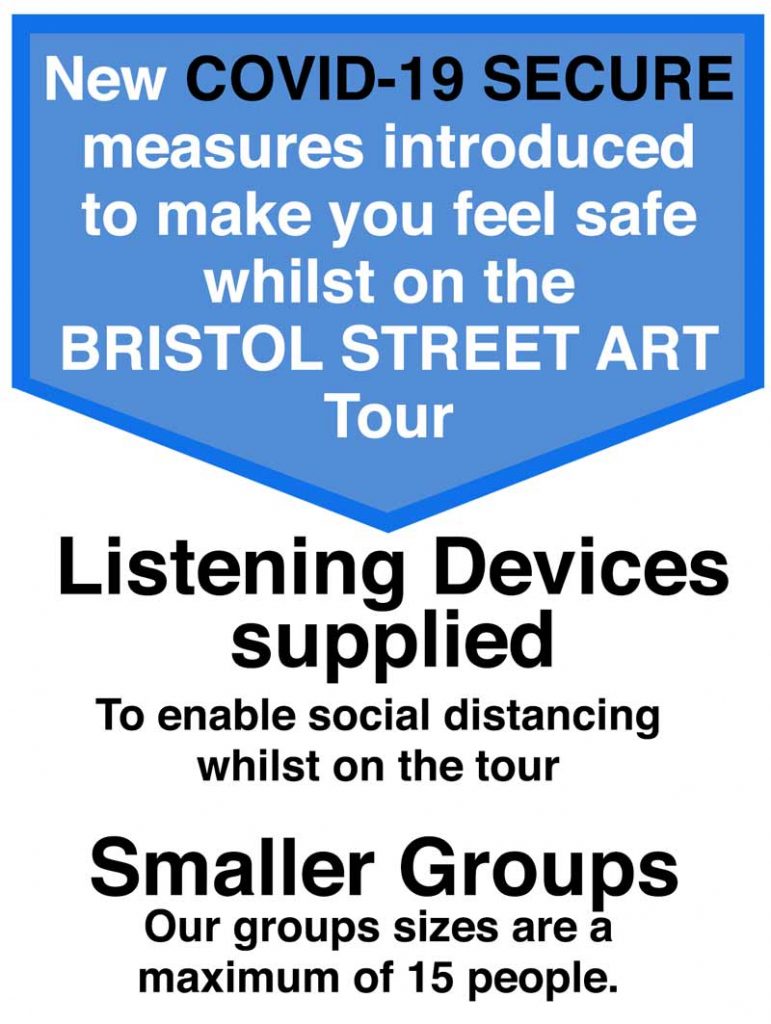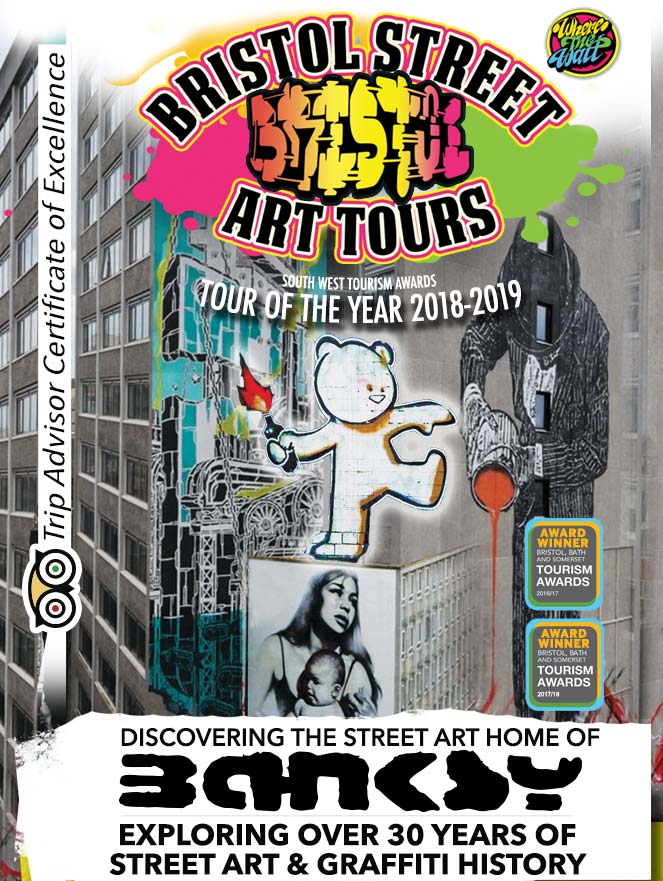 If you're looking for things to do in Bristol, and in particular a contemporary culture experience, this tour is for you. Without doubt the number 1 way to discover Banksy, street art and graffiti art in Bristol.
Click here for all the upcoming Bristol Street Art Tour dates.
Visitors Come From All Over The World To Attend
People travel from all over the world to experience this walking tour. This tour is shoes cutting edge and modern art, mixed together with Bristol history and culture.
We proudly tell the story of Bristol's incredible creative culture and art scene, from the dawn of the 1980's to the current day, and include the emergence of Banksy into the world's most popular contemporary artist.
Tickets
Tickets can be booked online using a debit / credit card or Paypal account.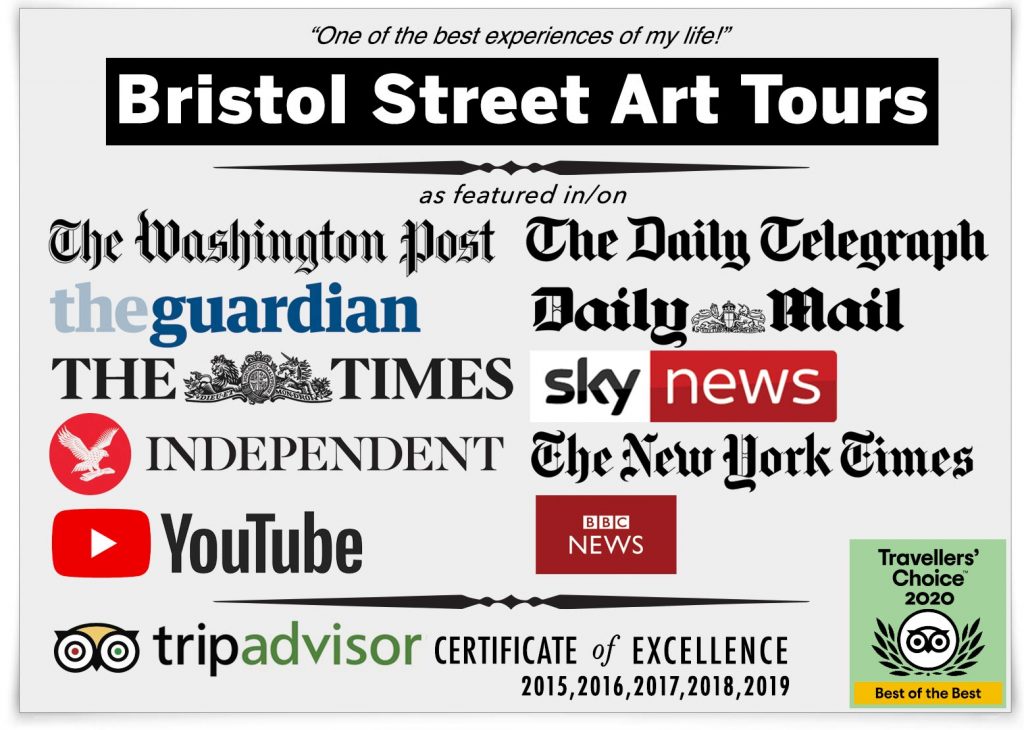 Award Winning
Having been awarded the Trip Advisor Certificates of Excellence in 2015, 2016, 2017, 2018, 2019, and in 2020 we received the Trip Advisor Travellers Choice Award. We received 'Guided Tour of The Year' two years running at the Bristol, Bath & Somerset Tourism awards.
Our Bristol Street Art Tour is rightly recognised as one of the best in the world, and our attention to detail for everyone who attends is well known.
"We did the street art tour today and loved every one of the 120 mins. We ranged from 14 years to 70+ and it suited all of us (plus 1 dog!)
So interesting. Saw parts of Bristol that you wouldn't normal see and had the street art explained really comprehensively, and enthusiastically.
Took some amazing photos and really started to understand the street art movement."
Claire R, Trip Advisor
Self Guided Walking Tour: A Piece Of Banksy!
Designed and built during the global poandemic of 2020, our clever project enables safe, self-managed social distancing through a self-guided walking tour.
Built to work on all generations of smart phones, it only requires a 3G/4G connection and a pair of headphones.
There are 13 audio narratives from 13 locations relevant to the Banksy Bristol story, and the self-guided tour is narrated by Bristol graffiti art legend and facilitator, John Nation.
The route starts/ends in Stokes Croft and starts/ends in the historic harbourside – depending on which way round you wish to do it.
You have 24 hours to do the tour once you have activated it, and each activation code enables two devices to run the self guided walking tour.
Activation codes are available online using a debit / credit card or Paypal account, click here to buy your activation code for the self-guided Banksy tour.
"Made the day trip down to Bristol specifically to do this tour. It was well worth the travel. Our guide was absolutely brilliant, we could not have asked for anyone better, so much knowledge and enthusiasm. Will probably do this again on the summer. I would highly recommend this to others."

Stacey T, Hereford, United Kingdom
We did the Bristol Street Art Tour with Rob today & it was great. It's just the complete package. We learned a lot about the city, we explored some fantastic artworks in the streets & got lots of information about the artists and the art itself. Rob is a great guide, he made this two hour tour, a life time experience.

Thomas Böttcher, Germany
Events From Where The Wall
The Bristol Street Art Tour
"Introducing Stencil Art" Sessions
Private Bookings & Private Events
CONTEMPORARY CULTURE BLOG: ART | FASHION | MUSIC | MEDIA