WHERETHEWALL celebrates creative culture through first-hand experiences. We celebrate creative culture, the amazing artforms of graffiti and street art, and run events focused on encouraging independent thinking and creativity through team building sessions and special events, using creativity and self-expression at it's core.

We run Bristol Street Art Tours, currently the third most popular activity (out of 150) to do in Bristol on TripAdvisor, a ranking voted for by people who been on the experience, with over 100 reviews. Our team includes people who have grown up with Banksy, and are experts in the fields of creativity, and can provide a unique and memorable experience for you and your group, either in Bristol or at your location.
FIND OUT MORE ABOUT BRISTOL STREET ART TOURS

VISIT WHERETHEWALL's BANKSY ART AND STENCIL KIT WEB SHOP
FIND MORE ABOUT BESPOKE STREET ART EXPERIENCES

FIND OUT MORE ABOUT CREATIVE TEAM BUILDING

DECOUVREZ NOTRE VISITE SCOLAIRE STREET ART

Having seen the unifying effect of Banksy's artwork, his clever and meaningful sense of humour, street art represents something very special: a direct form of free expression in this world of decreasing vocal platforms.

WHERETHEWALL encourages, promotes and supports creative-culture, graffiti and street art in all it's forms, and the following pages will give you a variety of opportunities to interact with art in a number of ways.

To keep most up to date follow us on Twitter and Instagram, and leave a picture of your favourite street art on our Facebook page.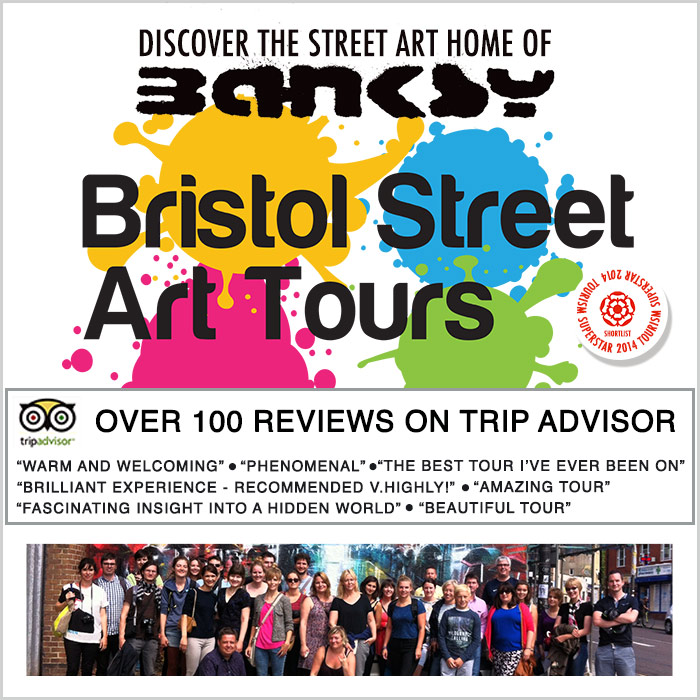 NEXT BRISTOL STREET ART TOUR DATE:
Saturday 30th May 2015 11.00am
Come to Bristol and enjoy a Bristol Street Art Tour where you'll explore artworks from artists that are diverse, independent and free. This is a a city that actively supports artistic freedom of expression.


BOOK YOUR PLACES HERE with online booking

Tickets are also available from: