On 18th December 2018 we were first to reveal a new Banksy art painting in Port Talbot on our Facebook page with our most popular Facebook posting ever, within hours the painting was all over the internet and speculation was growing for Banksy to confirm what everyone believed, that the painting was his.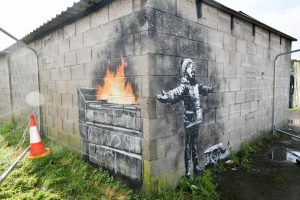 The painting is a strong statement on environmental damage, air pollution and the innocence of the younger-generation and their expectations of what we, the older generations, are leaving them after we have gone.
We were interviewed on BBC Wales Radio, and when asked the question, 'Surely the painting is vandalism', with the reply, 'Well ask the owner of the garage or the people of Port Talbot if it's vandalism or a very early Christmas present?!' seemed to encapsulate the positive spirit towards the painting.
Within 3 days Banksy confirmed the painting was his, and then the most extraordinary wave of energy and optimism spread around the area.
As street art is now being used by city planners all over the world to rejuvenate tired and neglected areas, the opportunity for Port Talbot with a genuine gift from Banksy, to create a street art legacy, seemed perfect. Especially when street artists started to gravitate to the area and leave new murals around the town anyway.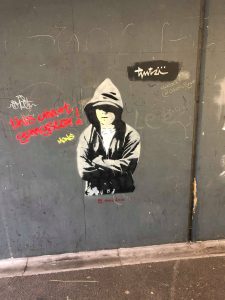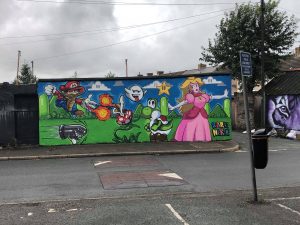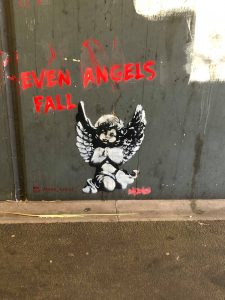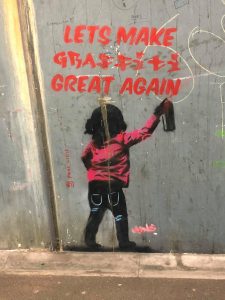 Having been overrun by the interest in the painting (it was reported that over 20,000 people visited in one week), the owner of the garage, who was initially financially assisted by A-list actor Michael Sheen, finally sold the Banksy painting to art collector and curator, John Brandler, for a six figure sum, with the plan to exhibit it in the town, alongside other street art paintings, in a museum/gallery, equipped to accommodate 1000's of visitors.
So, you may ask, 'can I go and visit the Banksy painting in Port Talbot this summer of 2019?'.
Well, that's not going to be easy.
The painting has been successfully removed from the side of the garage, and is now safely stowed inside an unmarked building with reflective glass making it very difficult to view at all.
In one of our photos, the people outside the unit, have actually travelled down from London to see the painting.
There seems to be a problem, and the new owner of the Banksy painting is seemingly questioning whether to keep it in Port Talbot at all now.
On the surface it seems the council may not be as keen to get a street art movement happening in the town as the people of Port Talbot are.
I'm sure our friends in south Wales can shed more light on the current situation, and hopefully the council can inform everyone of their current thinking too.
Photo credit: Kurtis Prosser