2021 Event Schedule Released On 1st February 2021
Thanks for visiting us. 🙂
Due to current UK government guidelines on COVID-19 restrictions we are not currently running any events, however at the begining of February 2021 we will publish our events for the whole of 2021, which will include weekly Bristol Street Art Tours and weekly 'Introducing Stencil Art' spray sessions. (We will run even more sessions in holidays and half-terms).
Please check back at the begining of February for our yearly schedule.
In the meantime if you would like to do a COVID-19 secure, socially distanced cultural activity, check out our self-guided walking tour here.
We wish you and your family the very best of health, and looking forward to seeing you all soon.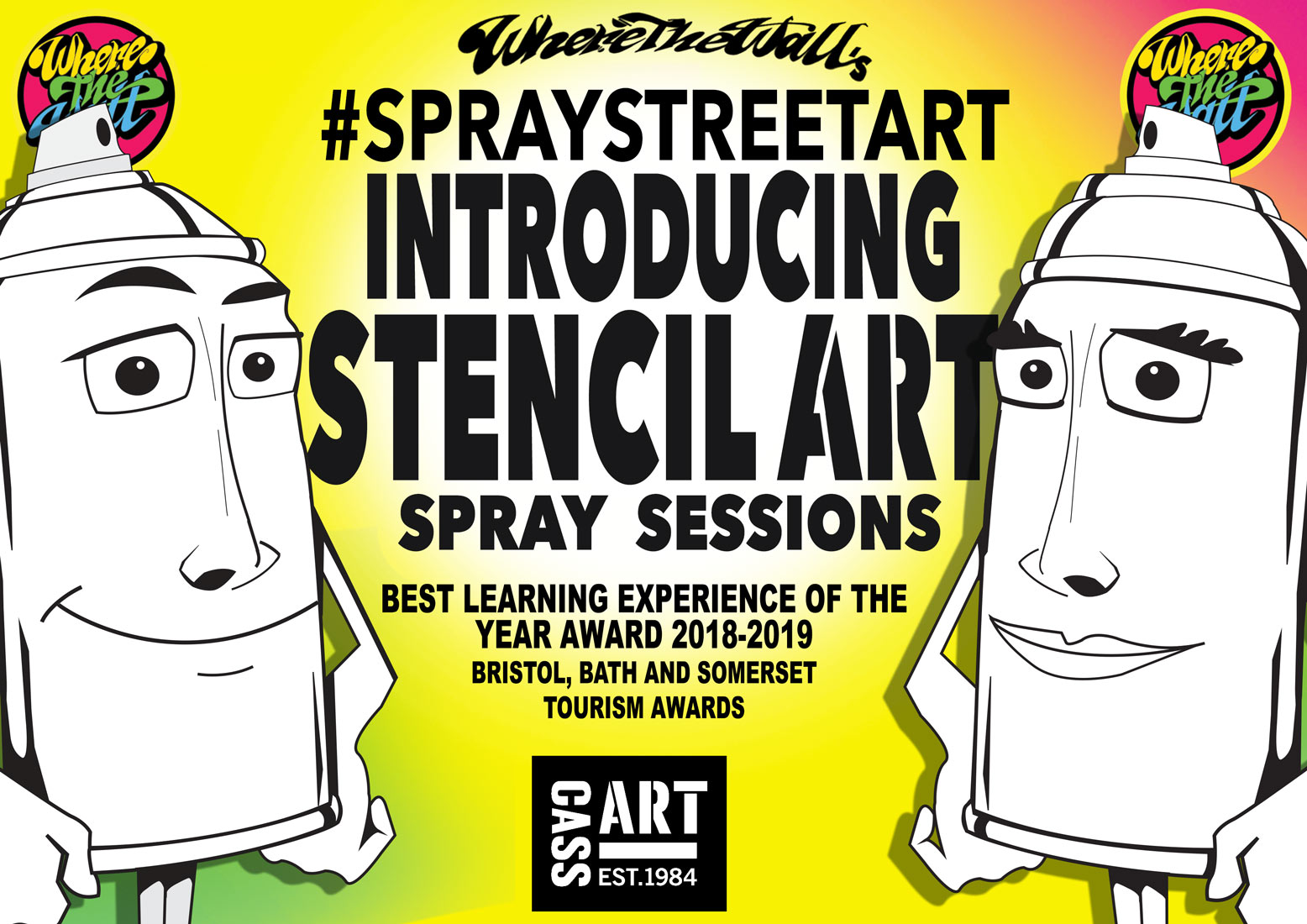 Where The Wall's 'Introducing Stencil Art' Spray Sessions
December 18th @ 2:00 pm

-

3:00 pm

|

Free – £15
Come and experience spraying stencil art first-hand!
This is a fantastic opportunity to take advantage of our facilities and spray your own artwork to take home, using our laser cut stencils and non-toxic water-based spray paints.
All abilities and ages can have a go!
These sessions are geared towards offering a chance to 'get your hands on the cans', a level 1 experience for everyone. Plus you get a unique souvenir artwork to take home!

"Criminally good fun!!" The Independent newspaper.
All of the materials are supplied by us, allowing you to concentrate on selecting the best colours for the perfect stencil artwork, developing your can control as you spray your artwork.
The artworks are created on A2 art paper (59 cm by 42cm) which fits perfectly into standard picture frames from most retailers.
The ticket price includes attendance at the session for the opportunity to spray your own artwork.
If you get a taste for creating stencil art, you can keep on going and create additional artworks at only £5 extra per artwork. Click here for adding additional artworks to your cart, or you can pay on the day.
Award Winning: Best Learning Experience of the Year 2018-2019
At the Bristol, Bath and Somerset Tourism Awards 2018, these 'Introducing Stencil Art Spray Sessions' won the silver award for Best Learning Experience of the Year.
Venue
The spray session takes place indoors, at Hamilton House, 80 Stokes Croft, Bristol, BS1 3QY.
This activity can also be booked for private parties. For more information, click here.