2021 Event Schedule Released On 1st February 2021
Thanks for visiting us. 🙂
Due to current UK government guidelines on COVID-19 restrictions we are not currently running any events, however at the begining of February 2021 we will publish our events for the whole of 2021, which will include weekly Bristol Street Art Tours and weekly 'Introducing Stencil Art' spray sessions. (We will run even more sessions in holidays and half-terms).
Please check back at the begining of February for our yearly schedule.
In the meantime if you would like to do a COVID-19 secure, socially distanced cultural activity, check out our self-guided walking tour here.
We wish you and your family the very best of health, and looking forward to seeing you all soon.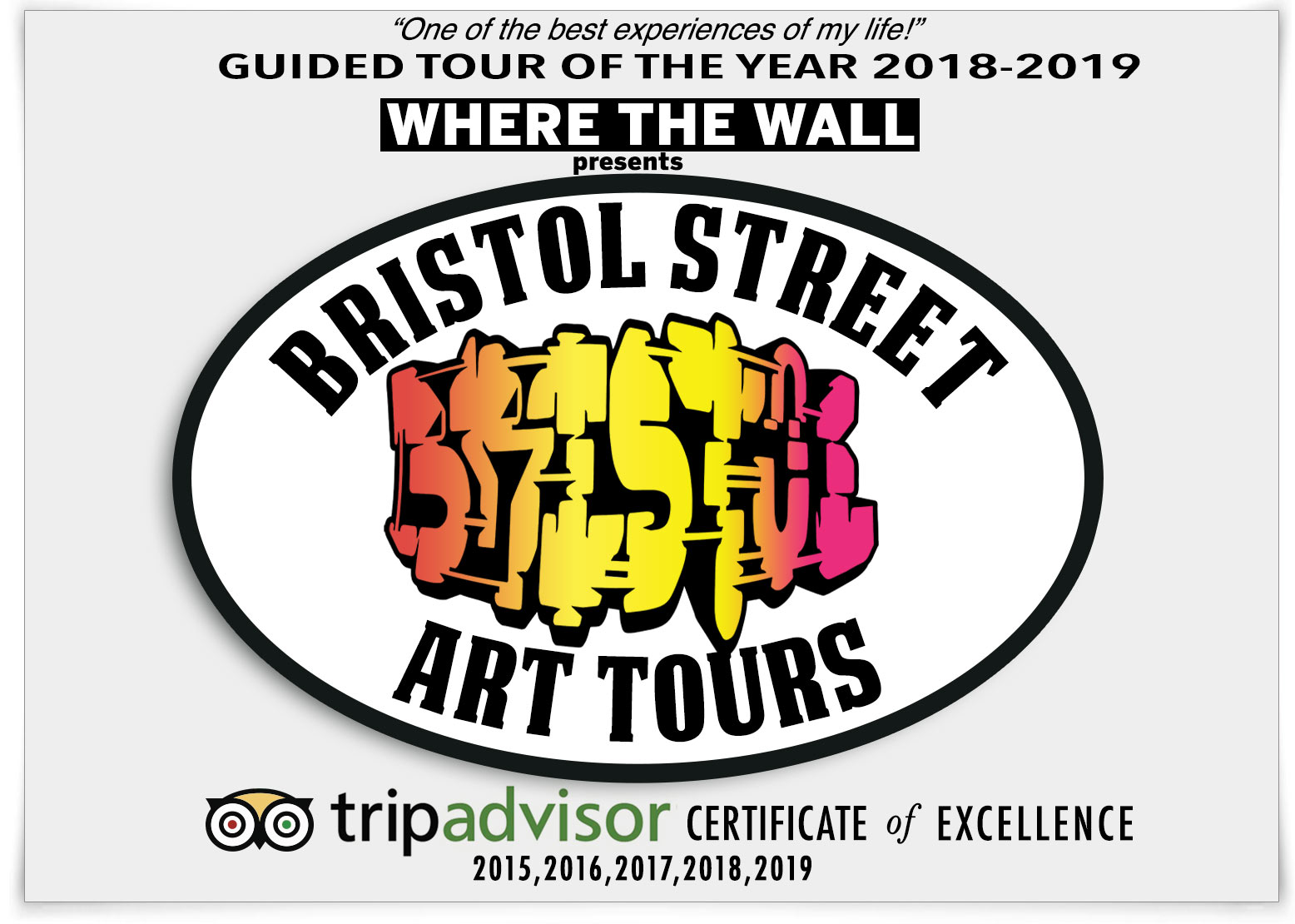 The Bristol Street Art Tour
October 24th, 2020 @ 11:00 am

-

1:00 pm

|

£7.50 – £15
"Discovering the street art home of Banksy and exploring over 30 years of street art & graffiti art history in the UK's street art capital".
The award-winning Bristol Street Art Tour is an experience and a journey into the history of an art-movement that led to the emergence of one of the most unique contemporary culture individuals ever, BANKSY, including insights into his life and his paintings.
The Bristol Street Art Tour is the no. 1 contemporary experience for street art and graffiti art.
The tour is a two hour leisurely stroll through central Bristol, finishing in Stokes Croft.
The tour includes international street art, and world-class graffiti-art styles, those that made Bristol famous across the world in the 1980's and 1990's before the emergence of Banksy, who took global street art popularity to incredible new heights all over the world.
The tour is built around the concept of broadcasting Bristol's creative culture to a wide audience in order to see it grow strong, and develope even more. With this tour unlike any other, you get the insiders view of street art in the city.
Listening Devices
In 2020, we now provide listening devices on all our tours so you can hear all of the commentary clearly whilst enjoying all the sights. This massively improves a walking tour experience, and is perfect for enabling you to observe at your leisure and not miss a single word!
We recommend bringing your own headphones, although we have cleaned and sterilised hanging ear headphones that you can use.
Come and experience the rich history and culture of street art and graffiti art in Bristol.
"An absolute MUST when visiting Bristol", "Highlight of the weekend", "Informative, Interactive, Inspiring", "Best thing to do in Bristol", "An excellent tour that takes you beyond Banksy!", "Fascinating and fabulous".
Award Winning
Awarded the Trip Advisor Certificate of Excellence and Superior Service 2015, 2016, 2017 & 2018, now with over 750 reviews, and multiple award-winner at the Bristol, Bath and Somerset Tourism Awards and the South West Tourism Awards, including Guided Tour of the Year 2018-2019.
Meeting Point
The meeting point for the tour is on College Green, the exact location is included in your digital ticket after a booking is made.
We have adult, student young person and OAP/senior citizen tickets available, please choose below.

NO TICKETS AVAILABLE.
THIS EVENT IS SOLD OUT.